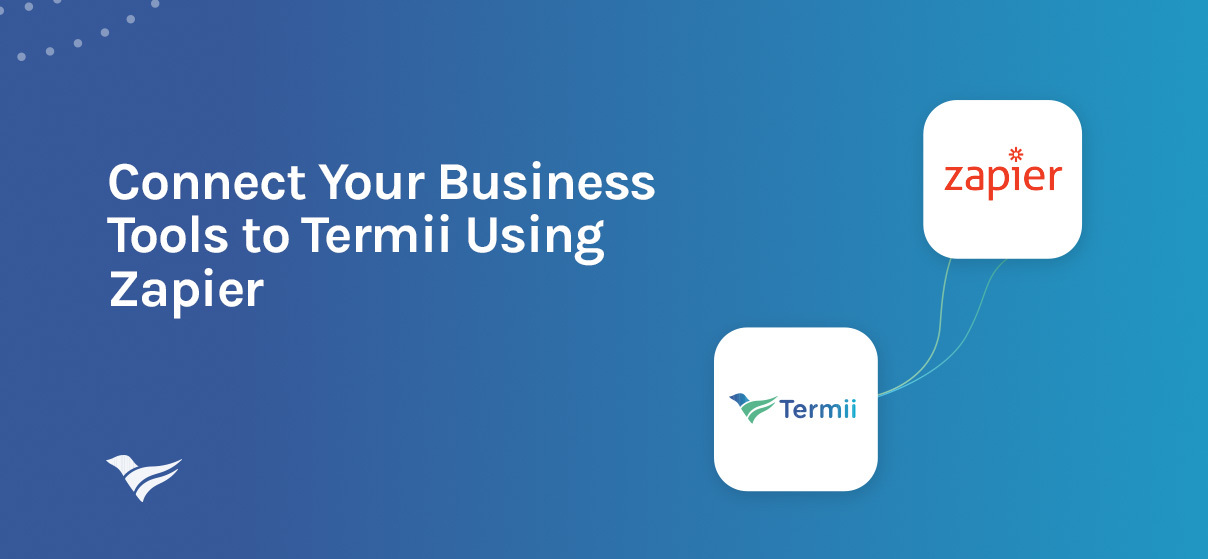 We're excited to announce our integration with Zapier! Sending messages on our platform has become more seamless and better. With Termii's integration to Zapier, you can automatically send promotional and transactional messages to your customers/users.
What is Zapier?
Zapier is an automation platform that helps you automate day-to-day tasks, automatically take action, and pipe information between business tools.
For instance, when you want to automatically send every customer/user who fills your Google form a promotional message, or you want to automatically send transactional messages and product notifications to your customers whose details you have on a spreadsheet, and to every new customer added to such spreadsheet or other workflows that require you to send messages to your customers.
With the Zapier-Termii integration, our users can connect Termii with over 5,000 apps, including many of the business tools you use daily, such as Mailchimp, Google forms, Slack, Gmail, Wave Accounting, and Google Sheets, and even your in-house websites. You can set up all of these and a whole lot more.
How does Zapier work?
It is essential to understand the concept of Triggers and Actions when using Zapier with Termii. See the breakdown below:
Suppose you connected Termii to your Google form so that every new customer that fills a document gets your promotional message. In Zapier parlance, the Trigger, in this case, would be "Google form entry," while the action would be "send the new customer a promotional message."
Please note: This is an early access integration with Zapier, and for this initial integration, there are two Termi actions on Zapier:
Send Transactional Message Action: this automatically sends a transactional message (OTP, delivery notice, order confirmation etc.) when a trigger event happens.
Examples of triggers in this scenario could be a new customer order on your app, transaction verification etc.
Send Promotional Message Action: this automatically sends a promotional message (Campaigns, subscription offers, general bulk messages etc.) when a trigger event happens.
Examples of triggers in this scenario could be: Google forms — new customer fills your survey; Google sheets — new customers' details are added to your customer lists etc.
The primary goal is to understand how people use the integration, which will help inform future updates (more triggers and actions) to the integration.
How to use the Termii Zapier integration with two types of business tools
We have added a detailed, step-by-step guide on connecting Termii with some of the most popular business tools without writing a single line of code. There are 5000+ tools on the Zapier platform to choose from, but in the guide, we show you how to connect Termii to one of them; Google Form (survey tool)
Important note: Before you get started, please remember to sign up on Zapier.
How to connect Termii to Google Form with Zapier
In this tutorial video, we'll show you how to automatically send a promotional message to every new person/user that fills your google survey.
Sometimes, you send promotional messages to your customers whose data (phone number, email etc.) you have on survey forms. In this tutorial, you'll learn how to send automated messages to your customers using their data from your surveys and continue sending them to every new respondent.
Got any questions?
If you have any questions about using this Termii-Zapier integration for any of your workflows, do not hesitate to contact us at support@termii.com