NEW: Termii Voice OTP A Reliable way to verify/authenticate customers' transactions
Cecille Abegunde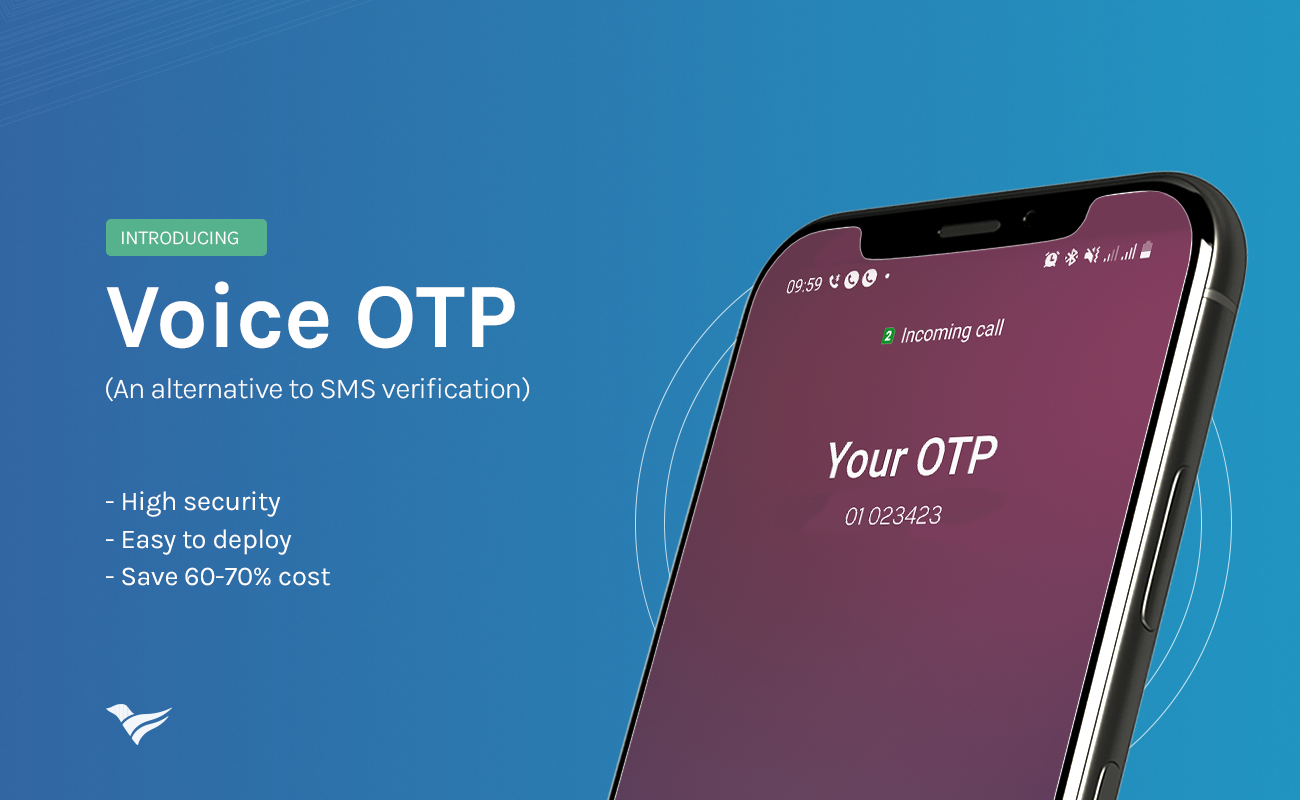 If you manage a website or an application (e-commerce, or banking, and financial applications/websites) you would know how powerful it is to have a great user verification service integrated into your processes.
The ability for a website or application to quickly and efficiently verify users' identities and transactions is not only a recipe for improved customer growth/retention but also eliminates the risk of data security and phishing attacks. Cybersafety is crucial, and (one-time) passwords play a big role in that.
For organizations to effectuate digital identity technology that satisfies customers' needs in the most secure and user-friendly way, it is critical to reaching customers through their personal technology — mobile phones. The mobile is now the desired method for customers to perform daily and stringent tasks like banking and shopping and must be placed firmly at the heart of any successful digital overhaul strategy. Businesses already adopting a mobile multi-factor authentication strategy — SMS, WhatsApp, and now Voice, for their customers will gain the most benefits.
However, securing information is a huge burden for many organizations and it has become a top priority to find a service provider that can provide the best security. Let's take an example, the onboarding process where 2FA is needed to verify/authenticate a new user, faster time-to-value attracts customers. But if onboarding is slow and difficult, this can leave customers unhappy and dissatisfied, encouraging them to give up.
To solve these challenges, we're excited to announce VOICE OTP, a powerful new alternative channel for organizations to verify their users' identities and transactions.
Enhance Security, Improve Speed
By adding voice OTP as an additional channel for user verification, customers do not have to worry about any leakage, fraud, or any type of data corruption. The Voice OTP will serve as an additional layer of security for your users. This service is fast and reliable.
Voice OTP Verification happens through a phone call to the user's phone number. The user answers the phone to listen to the digits OTP (security number) played over the phone call, then enters the OTP in the application/web interface to verify a transaction or a login.
Voice OTP gets delivered to the intended user regardless of the kind of phone — smartphone, a landline, or just a regular phone. Also, no internet is needed to access the OTP.
Features of the Voice OTP
Voice Failover:

Security can be the main aspect of any service, and for this, Voice OTP

has the capability and enhancement for 2FA security. It allows organizations to make calls and forward OTPs over the phone. Increasing voice delivery rates to 100 percent.
Operational Proficiency:

With voice OTP, you can send multiple voices parallelly, so you can eliminate or totally reduce waiting time for your customers.
Quick Verification:

Now you can verify any transaction or session very quickly. Our Voice OTP call delivers within a few seconds. Now, you do not have to wait for text messages, instead, choose the Voice OTP for quick verification.
Global Coverage:

This service delivers OTPs to over more than 800 networks with the best delivery rates and speed. So, now you do not have to worry about the distance of your customers, this service allows you to cover all of them regardless of their region.
Cost-Effective:

our voice OTP is tailored to increase your growth as it is entirely cost-effective and will definitely fit in any budget.
Pin Generation:

Our platform generates secure and unique OTPs that are user-specific.
How to Implement Voice OTP verification to your user verification process
Transaction Authentication:

Make all transactions safe, fast, and secure.
Authentication:

Add an extra layer of security to your e-commerce websites and applications without increasing complexity for users. Authenticate registrations by voice call OTP verification.
Authorization:

Use voice OTP verification to make sure your customers' information remains secure, whether it's deleting, restoring, or activating your account. Use the premium voice OTP service now.
The soon-to-be-launched voice OTP service sits on our existing REST API to make the process of integration, sending, and verification of OTPs hassle-free and intuitive for every developer.
In addition, the voice OTP can only be verified using our Verify Token API. Our dedicated voice OTP sandbox would serve as a testing environment to avail engineers of a live walkthrough of the product.
We're excited about the opportunities this service will give global businesses on our platform. We're only just getting started on building a better customer engagement experience from here.
Kudos to the product team, and researchers at
who contributed to this effort: Ayomide Awe, Tobiloba Ajimosun, Tobi Egbayelo, and Seun Isaacs.
To get first-hand information on the official launch of the Voice OTP service, sign up at www.termii.com or follow our social media handles on Twitter, Facebook, LinkedIn, and Instagram, so you don't miss a thing