How Moniepoint is Driving Financial Inclusion with Termii's Communication Platform

Dami Adegoke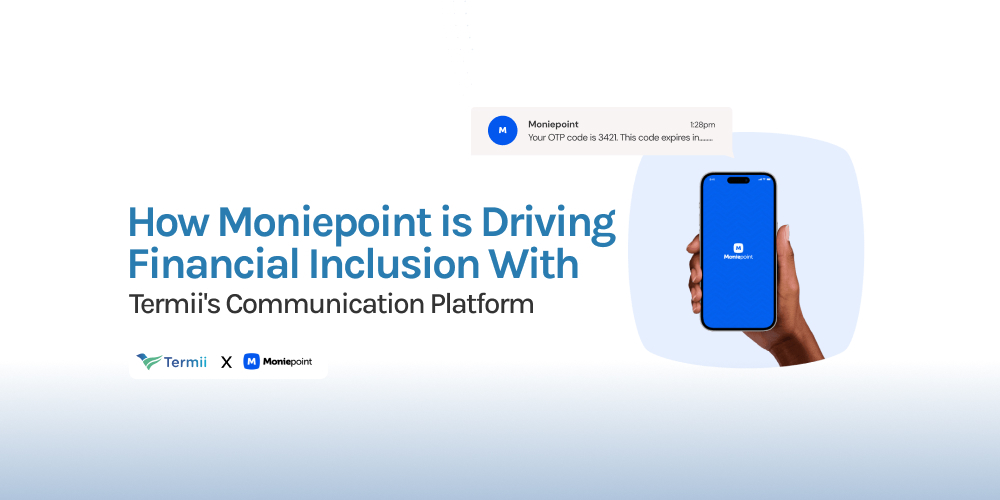 Introduction
Moniepoint, a leading player in the financial industry, offers extensive banking solutions for individuals and businesses. With a mission to empower customers by facilitating payments, offering loans, and financial tools, Moniepoint has become a key player serving over 1.8 million businesses. This article explores how Termii has assisted Moniepoint in improving customer communication and maintaining a high-quality user experience.

Challenges: Building Infrastructure for Rapid Growth
Moniepoint experienced rapid growth and needed an effective means to manage expansion, especially in customer communication, during onboarding and transaction validation. Their infrastructure was robust, but they required a partner to efficiently manage their communication needs.
Solution: Termii's Scalable, Reliable, and Secure Platform
To address their growth and communication challenges, Moniepoint sought a partner that could scale efficiently maintain security, provide robust support, and meet regulatory requirements. Termii emerged as the ideal choice, offering these capabilities cost-effectively and ensuring exceptional support.
"Being a financial service provider, one of the things that we do is enable businesses and individuals for sales day transactions. And one thing that comes with that is security, for example, we need a provider that's going to be able to efficiently deliver messages to our customers for various reasons." Efemena Ogie, Moniepoint's Head of Partnership.
Integration: A Smooth and Efficient Process
Moniepoint and Termii, once aligned on requirements, swiftly exchanged integration documents and established a successful partnership. The integration allowed Moniepoint to send messages to customers efficiently, maintaining the quality of service.
"We were able to send messages, reach our customers, and maintain the quality of service." Efemena Ogie, Moniepoint's Head of Partnership.
Success Stories: Enhanced Customer Communication and a Positive User Experience
In the digital age, a negative customer experience can spread quickly, impacting businesses significantly. Moniepoint's partnership with Termii has proven successful for both parties, enabling improved customer communication and a positive user experience.
Scaling for Ember Seasons: Handling Increased Demand
During busy periods, like the Ember months, Moniepoint relies on Termii to ensure smooth and efficient customer communication. Termii's scalable and reliable infrastructure efficiently handles the elevated demand during such high-traffic times, offering various communication channels to reach customers conveniently.
Results from Partnerships and Evolving Partnerships
The partnership has deepened the understanding of user preferences and allowed for customization based on Termii's diverse product offerings. This flexibility benefits customers, especially in areas like transaction security. Moniepoint envisions a continued partnership with Termii, emphasizing data protection and service optimization to treat customers with the utmost care.
"Our customers are super important. To us, "customer is king" is not just another mantra, but we take our customers on our head, like our own family members." Efemena Ogie, Moniepoint's Head of Partnership.
Conclusion: Transforming Financial Services in Nigeria

Moniepoint and Termii are at the forefront of innovation and customer-centric service in the ever-changing financial services industry. Moniepoint offers comprehensive banking solutions, while Termii enables efficient and reliable communication. Their partnership is mutually beneficial, empowering Moniepoint to offer a seamless financial experience and helping Termii expand its reach into new markets.