Key Advantages of Automated Customer Service for Digital Marketers
Cecille Abegunde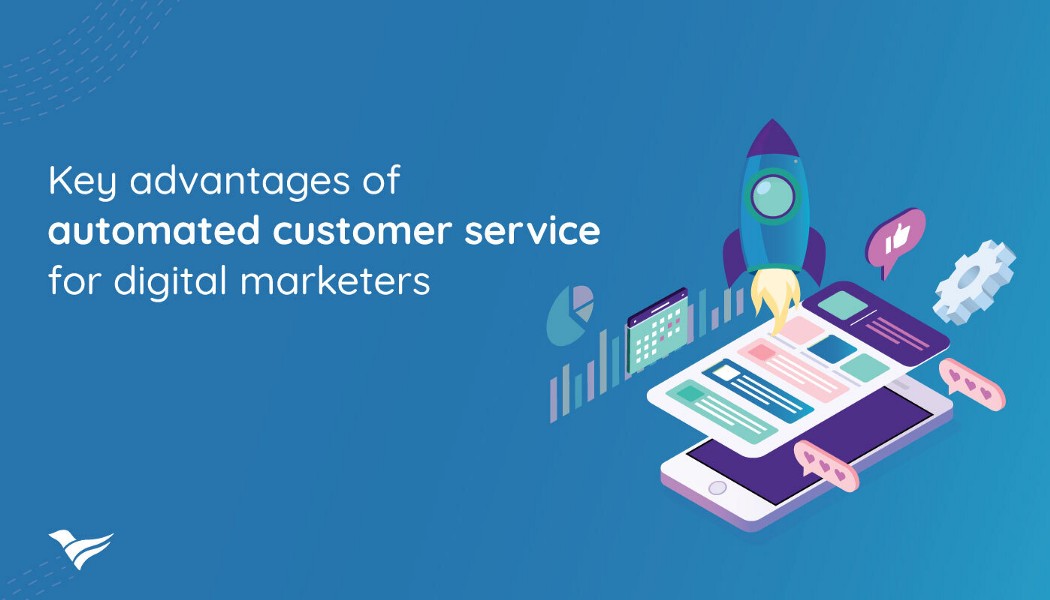 Referencing Zendesk's research reported in 100 Customer Service Statistics You Need To Know 82% of consumers have stopped doing business with a company because of bad customer service.
It can be particularly frustrating when a customer with minor issues has to wait out 5 minutes (or more) just to get basic information. But what if you could save them and your customer support team the time and effort? This is where automated customer service comes in handy.
However, before you begin to consider automating your customer service, it is important to have a good understanding of what to expect. In this article, we'll explore key advantages and examples of customer service automation and tips on how you can get started and improve your support.
What is Automated Customer Service?
It is all about optimization which means incorporating alternate solutions that reduce human action, and/or repetitive tasks, thereby saving time for both the customers and customer support staff. With customer service automation, customers can effectively skip the unnecessary exchange with a brand's support team and get immediate solutions to their queries. AI chatbots are typical examples — they can be used to help customers achieve certain tasks from making an order, resolving certain problems, or even guiding through a complex sales process.
A Few Examples of Automated Customer Service
Customer/account verification:

You can use this automation to verify customers' identities to address key issues. That is, getting important details such as, confirming security questions or matching account numbers to birthdays. This will optimize the support team's time, eventually getting a customer's issue resolved quicker.
Customer onboarding:

with automation tools most customer onboarding actions can be completed instantaneously, greatly improving customer experience.
Transaction:

automating your payment processes provides a faster service to your customers. customers can receive invoices earlier, leading to earlier payments and improved cash flow
Why customer service automation is important
Statistics show that consumer expectations for customer service increased by 68% and 67% of consumers expect to use messaging apps when interacting with a business. The goal of customer service automation, therefore, is to implement a system that replaces specific customer service with an automated mechanism and helps improve customer satisfaction by at least 98%. Some specific benefits are further highlighted below:
1. Target potential customers across multiple channels
One of the powerful benefits that customer service automation offers digital marketers is the ability to reach customers in a personalized way across different channels. When you're creating a marketing sequence for the different stages of the customers' journey, you can implement automation tools for multi-channels like emails, and text messages. Check out cross-channel messaging tools on Termii for example.
2. Improve Customer Service team's productivity
Doing the same thing over and over can become quite boring and less interesting. When you replace manual repetitive work with automated campaigns, you ultimately free up your staff's workload and time to focus on more creative tasks and increase the CS teams' overall happiness with their job.
3. Reduce staffing cost and increase revenue
By automating customer service processes, you end up establishing thousands of lead nurturing and marketing campaigns automatically set off based on specific criteria in a day which certainly is more than what staff can process. Also, by automating your customer follow-ups (and up-sells), there will be an increase in your customer lifetime value and will most likely improve your ROI.
4. Schedule campaigns ahead of time
Using marketing automation tools (with pre-installed templates) will help your campaigns perform better, saving your business time in building your own tools
5. Higher customer engagement
Implementing this technology gives your business the needed speed in engaging with your customers. You will be known for providing great customer service and will end up building customer loyalty.
The Best Approach to Implementing Customer Service Automation
Do not entirely disconnect the personal touch
While customer service automation is great, saving you time, money, and speed with engagement, it is not meant to entirely scrap off the support of the customer service team. The human touch should serve as the technology's backup, providing the emphatic voice crucial to customer service. eg, for handling complex support tasks or problems.
Ask your customers for feedback
Monitor how your customers interact with your automation processes by seeking their feedback for improvement. Carry them along as you implement the automation/engagement processes. This way, they'll appreciate the effort and provide helpful feedback. Besides, what's the point of automating your processes if your customers do not appreciate it.
========================================
How Termii's messaging automation improves customer experience
Termii's innovative messaging technology helps most of your favorite brands improve customer experience by setting up messages/campaigns to prompt and guide important user flows during each stage of the customer journey/lifecycle. Brands can set up automatic messages based on specific behaviors, such as OTPs for verifying customers' identity and transactions, deliver real-time notifications, coupons, etc.
Our messaging tools used to get this done
Our two-way messaging feature through

WhatsApp

helps businesses to foster better relationships with their customers via conversational messages, and also build products like chatbots that handle tasks that cover all customer intents and dialogue scenarios
Cross-channel messaging

allows brands to schedule notifications, verify and authenticate customers via SMS, email, voice & IM channels.
Automating your customer service reduces customer friction, improves customer experience, and allows your customer service team invaluable time to handle more complex issues.
Leveraging the capabilities of Termii's products can help you reap the benefits of this automation technology while improving the customer journey. To learn more, visit termii.com or send us a live chat via sales@termii.com and we'll be more than happy to put you through.