Simple ways to prevent bots and spammers from accessing your platform
Cecille Abegunde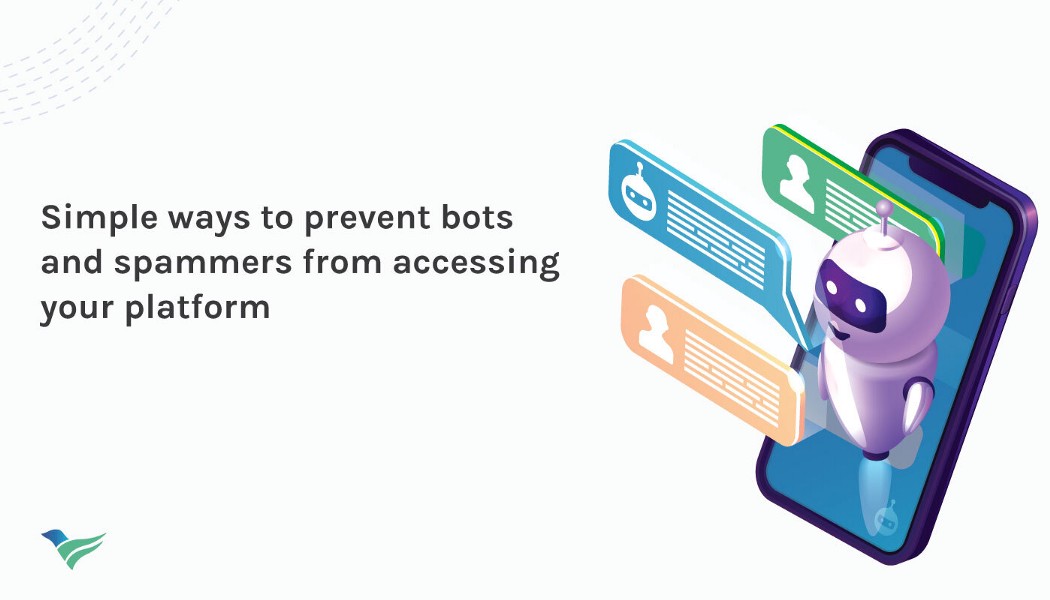 Did you know, there's been a 24.1% increase in bad bot traffic? These bots gain an advantage by collecting sensitive data through phishing pages or similar techniques.
While good bot traffic consisted of 13.1% of the traffic — a 25.1% decrease from 2018, bad bot traffic comprised 24.1% of all website traffic in 2019, rising 18.1% from the year prior, while 62.8% of all website traffic came from humans. It also states that the top industries with the worst bot traffic include education (45.7%), IT and services (45.1%), marketplaces (39.8%), government (37.5%), and financial industry being the most affected with (47.7%).
Identifying Spambots
Here are a few common types of spambots depending on the activity:
Email Spam

— Email spambots harvest email addresses from materials found on the Internet — websites, newsgroups, etc, to build mailing lists for sending unrequested emails or

spam

that are malicious in nature. Because email addresses have a distinctive format, such spambots are easy to code.


Comment and Fake Response Spam

— A fake response spam message will appear with the "Re:" prefix in the subject line making you think you were receiving a response to an email you may have sent earlier, while for comment spam, special software is used to find potential targets and blasts them with comments that appear genuine, but are used to build backlinks to the spammer's malicious website.
Social Media Bots

— You may have encountered this type of spam because they're quite common on Instagram, Twitter, and Facebook. These bots create fake accounts (or a compromised account of an unsuspecting user) that exhibit very similar behavior to that of real users and are used to send auto messages with offers, deals, and products.
Download Bots

— Download bots are automated programs that can be used to automatically download software or mobile apps to influence download statistics. For example to gain more downloads on popular app stores and help new apps get to the top of the charts. They can also be used to attack download sites, creating fake downloads as part of an application-layer Denial of Service (DoS) attack.

Techniques to Prevent Spambots from accessing your platform

Mobile Number Verification

This method is very effective and also the safest method to ensure that the information of both the website and customers is safe. It is not limited to financial services and e-commerce sites but is one of the most used security methods in any kind of website. Send users verification codes via SMS, or voice tokens on their mobile devices to complete the user registration process.

Social Login

Ever tried signing up on a new website and you're giving the option of signing in with an already existing social account? Allow new users to sign up on your website with an existing social account. This technique is also one of the safest ways to ensure accurate sign-ups with the right user information as spammers cannot create real accounts this way.

ReCAPTCHA

Considered the simplest method, the ReCAPTCHA is a CAPTCHA system that enables web hosts to distinguish between human and automated access to websites. The original version asked users to decipher hard to read text or match images. Many websites place CAPTCHA to prevent downloads or spambots. Add CAPTCHA on sign-up, comment, or download forms.

By incorporating these approaches, you can control the most common types of bad bots, and successfully separate them from human traffic. To get started, you can integrate advanced token platforms to perform these techniques for you.

Learn here how Termii's Token platform can help you verify and authenticate your user's identities, transactions and prevent bots and spammers.

Sources…

Software Lab, Imperva, Softprom

Google, Technopedia, Wikipedia

There are many ways to keep spammers away from your site. I hope this paints a picture for you in terms of keeping spammers away from your platform. Let the organic qualified traffic flow in.